Healthy Blueberry Oatmeal Bars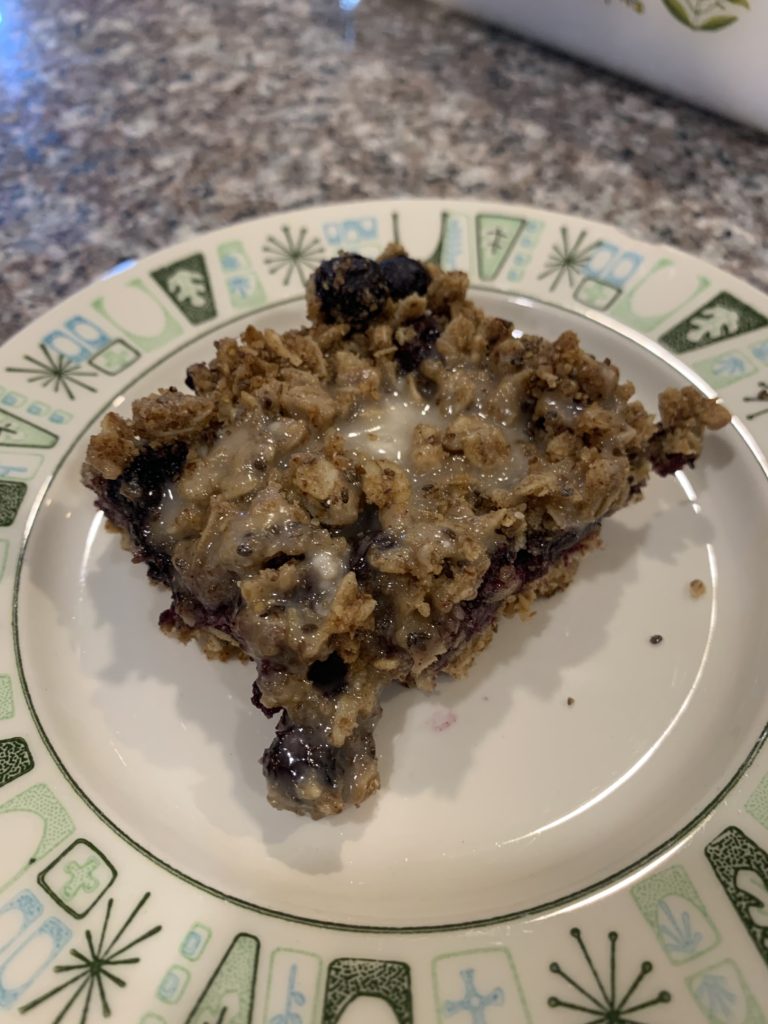 Ingredients
1 cup old fashioned oats
3/4 cup whole wheat flour
1/3 cup light brown sugar
3 tablespoons ground flax seed
1 tablespoon ground cinnamon
2 tablespoon chia seeds
1/4 teaspoon salt
8 tablespoons unsalted butter, melted (feel free to substitute coconut oil)
2 1/2 cups of washed blueberries
1 teaspoon cornstarch
1 tablespoon of freshly squeezed lemon juice
Directions
Place rack in the center of your oven and preheat to 375* F. Line an 8 x 8 inch pan with parchment paper so that the paper over hangs at least two sides of the pan.
In a medium bowl, combine the oats, flour, brown sugar, ground flax, cinnamon, chia seeds, and salt. Pour in the melted butter and stir until it forms clumps and the dry ingredients are evenly moistened. Press about half of this crust mixture into the bottom of the pan. Set aside remaining mixture.
Scatter half of the blueberries evenly over the crust. Sprinkle the cornstarch evenly over the top, then sprinkle the lemon juice over. Pour on the rest of the blueberries. Evenly spread the remaining crust mixture over the top. You will have berries showing through.
Bake the bars for 35 to 40 minutes, until toasted and golden on top. Allow the pan to cool thoroughly before removing the bars by lifting the parchment paper out of the pan. Add the glaze if you choose and place the bars in your chosen storage container. Store in the refrigerator up to 5 days.
Make it a little less healthy with this yummy glaze…
1/2 cup powdered sugar, sifted
1 teaspoon pure vanilla extract
1 tablespoon milk
Briskly whisk the ingredients together until they are smooth. Drizzle over the blueberry oatmeal bars and enjoy!